Sustainable Transition: Lightweight Caps And Closures For Still Water
As consumer awareness of environmental issues grows, beverage producers are increasingly pursuing lighter weight caps and closures to enable more sustainable beverage packaging solutions.
In Part I of our Closure Sustainability Series, we focused on lightweight CSD applications. Part II of this series focuses on still water applications.
MATERIAL EFFICIENCY (LIGHTWEIGHTING)
The concept of lightweighting is straightforward; remove as much resin from specific closure features without negatively impacting performance or user experience. Lightweighting can lower part weight and raw material cost-per-piece, which enhances manufacturing productivity by reducing cycle times.
Husky makes extensive use of mechanical and melt flow simulation tools to develop its closure portfolio. Step 1 is to break the closure down into its specific elements (Figure 1). Step 2 is focused on material removal from a specific feature. This lightweighting can include weight removal solely or weight removal and geometric changes. Multiple simulations are run on the new feature proposal to predict the performance outcome. This is an iterative approach. This methodology is applied to all closure features until the performance, aesthetic, and flow criteria are satisfied. Benefits of this approach include speed-to-market and lower development costs.
Figure 1 – Eliminating waste leveraging simulation tools


Simulation tools are used to predict how much material can be removed from each feature without negatively impacting performance/usability.
NECK FINISH CONVERSION: EMBRACING LIGHTER OPTIONS
The introduction of new industry standard neck finishes can offer similar levels of performance at a lighter weight. Figure 2 identifies the most commonly used neck finishes for still water, showcasing the many varieties available.
Figure 2 – Popular neck finish options for the still water segment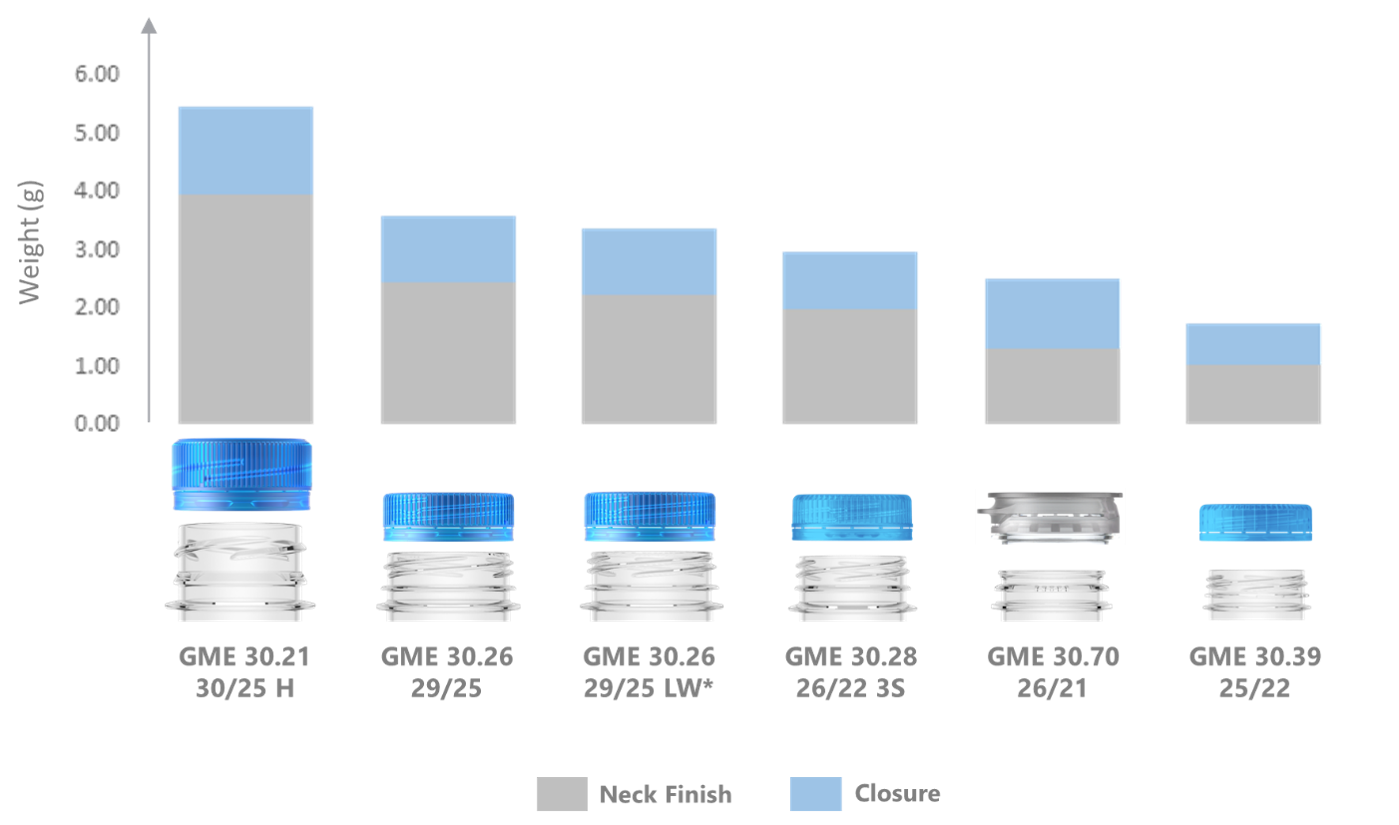 *Modified E-Dia + B-Dia | Husky closure weights provided.
An interesting trend concerning lightweight water finishes is emerging on a global scale. The 25/22 (GME30.39) and 26/22 3s (GME30.28) finishes are attracting brand attention as viable alternatives to the universally accepted 29/25 (GME30.26). Originally, these finishes appealed to commodity brands in North America. Over the past few years, adoption rates of the 25/22 and its variants have expanded beyond North America to the countries identified below (see Figure 3). The key value drivers for this trend are primarily environmental (improved sustainability) and a reduced cost of production.
Figure 3 – Adoption of the GME30.39 (25/22) and variants globally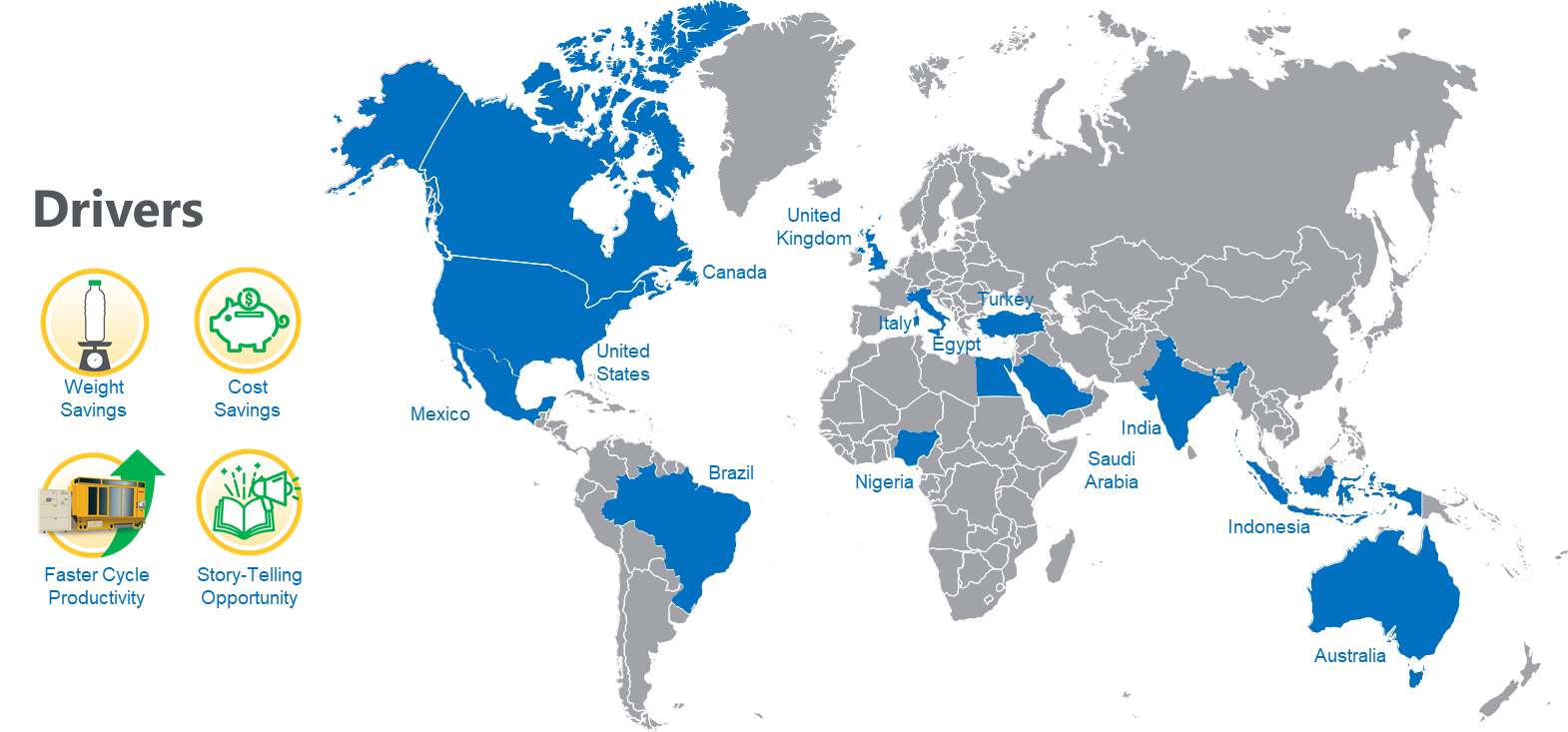 Comparison of the 29/25 (GME30.26) and 25/22 (GME30.39) dispensing systems shows that the weight savings are significant – up to 1.85g! (See Figure 4 below). Husky has developed a portfolio of 25/22 solutions that enable brands to realize weight savings without compromising on the consumer experience. 25/22 XT (~8.9mm) versions in tethered and non-tethered configurations offer more grip than the typical 29/25 (~8.2mm) closure.
Figure 4 – 29/25 & 25/22 dispensing system (neck + closure) comparison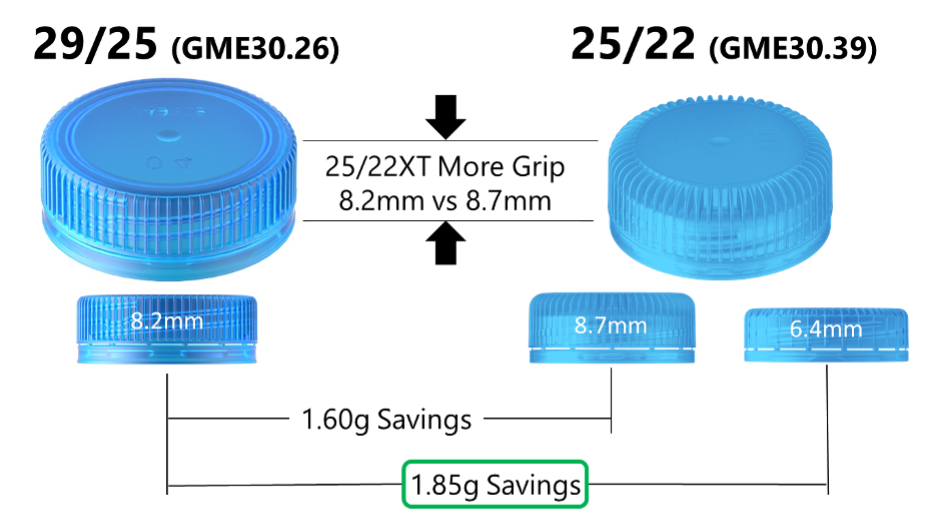 Reach out to our team of caps and closures experts to learn more about how we can enable you to select a sustainable cap and closure for your still water application needs.