Estamos entusiasmados em participar da Plástico Brasil 2023
27 a 31 de março de 2023
São Paulo, Brasil
Estande B070
De 27 a 31 de março, a Husky estará expondo na Plástico Brasil 2023. Visite nosso estande para saber mais sobre nossa gama de tecnologias, soluções e serviços que permitem que produtores de alimentos, bebidas, embalagens de bens de consumo e dispositivos médicos no Brasil respondam efetivamente aos desafios contínuos do mercado, incluindo problemas da cadeia de suprimentos, escassez de mão de obra qualificada, aumento dos custos de energia e de materiais, e pressões para ser mais sustentável.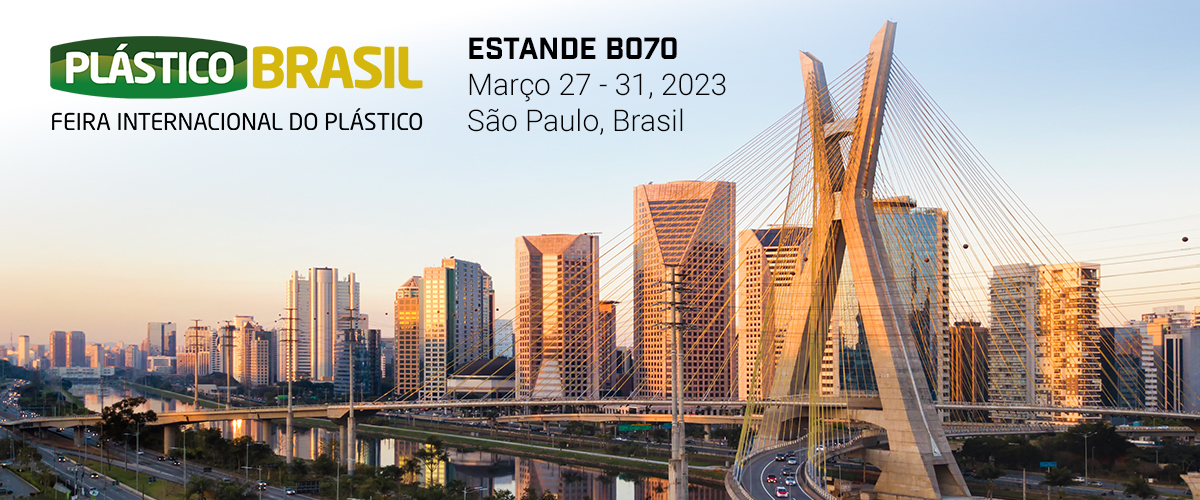 Os destaques que serão apresentados incluem:
Soluções completas, integradas e conectadas da Husky, projetadas para permitir que os produtores transformem a variabilidade em estabilidade em todas as etapas da produção de PET e embalagens.
Gama de tecnologias de câmara quente e controladores de temperatura, projetados para permitir que os produtores atinjam os mais altos níveis de qualidade e volume de peças com o menor custo por peça, mesmo para as aplicações mais exigentes.
Monitoramento proativo, preditivo e transparente Advantage+Elite das instalações de produção dos clientes em tempo real, usando tecnologia conectada remotamente para envolver e manter proativamente o menor custo total para produzir.
Soluções completas e integradas de moldagem de embalagens da Husky, incluindo máquinas, moldes e câmaras quentes, projetadas para atender a diversas necessidades do mercado, desde potes de alimentos com parede fina até baldes industriais, tampas especiais e dispositivos médicos.
Os mais recentes avanços em ferramental PET, incluindo seu molde com pitch (espaçamento entre cavidades) de 45 mm projetado para aumentar a produtividade em até 33% para aplicações de pequenas preformas com altos volumes de produção.
Portfólio de soluções comprovadas de tampas para bebidas, incluindo a variedade de tampas "tethered" com lacres personalizados e padrão, projetados para oferecer flexibilidade, adaptabilidade e uma experiência premium ao consumidor.
Visite nosso estande e conecte-se com um de nossos especialistas regionais para explorar como a Husky pode permitir que você atinja suas metas de fabricação, produção e negócios.
Enabled by Husky. Powered by People.
Entre em contato conosco na Plástico Brasil 2023 para saber mais. Reserve sua reunião hoje mesmo!
WE ARE EXCITED TO BE ATTENDING PLASTICO BRASIL 2023
March 27-31, 2023
Sao Paolo, Brazil
Booth #B070
From March 27-31, Husky will be exhibiting at Plastico Brasil 2023. Visit our booth to learn about our range of technologies, solutions and services that enable food, beverage, consumer goods packaging and medical device producers in Brazil to effectively respond to ongoing market challenges – including supply chain issues, skilled labor shortages, rising energy and material costs, and pressures to be more sustainable.
Highlights that will be featured include:
Husky's complete, end-to-end, connected production solutions enabling producers to transform variability into stability throughout every stage of PET and Packaging production
Range of hot runner and controller technologies designed to achieve the highest levels of part quality and part volume at the lowest part cost, even for the most demanding applications
Advantage+Elite proactive, predictive, transparent monitoring of customers' production facilities in real-time using remotely connected technology to proactively engage and maintain the lowest total cost to produce
Husky's complete and integrated Packaging molding solutions, including machine, mold and hot runner, engineered to serve diverse market needs ranging from thinwall food containers to industrial pails, specialty closures to medical devices
Latest PET Tooling advancements, including the 45mm-pitch mold designed to increase output up to 33% for high-output small format applications
Portfolio of proven beverage closure solutions, including a variety of custom and standard tethered closures designed to deliver flexibility, adaptability and a premium consumer experience
Stop by our booth and connect with one of our regional subject matter experts to explore how Husky can enable you to achieve your manufacturing, production and business goals.
Enabled by Husky. Powered by People.
Connect with us to learn more at Plastico Brasil 2023. Pre-book your meeting today!