Enabling Bai-Kakaji's path to success
How Bai-Kakaji adopted flexible, adaptable solutions to become a leading regional producer
Founded in 2013 by Mr. Pramod Mundada and Mr. Balkishan Mundada, Bai-Kakaji Group has grown into one of India's leading regional beverage packaging companies that produces their own brand name water bottles called SUNRICH AQUA, as well as sells preforms and closures throughout the country's Western and Southern regions. In 2016, Bai Kakaji was looking to differentiate themselves in the market by diversifying their product line. To achieve this, they wanted to work with an experienced, reputable partner who could deliver a complete, flexible, mid-volume output solution and they turned to Husky to help them achieve this goal. Today, Bai Kakaji runs five Husky mid-volume output systems ranging from 32 to 48 cavities and their operation processes more than 11,000 metric tonnes of PET a year.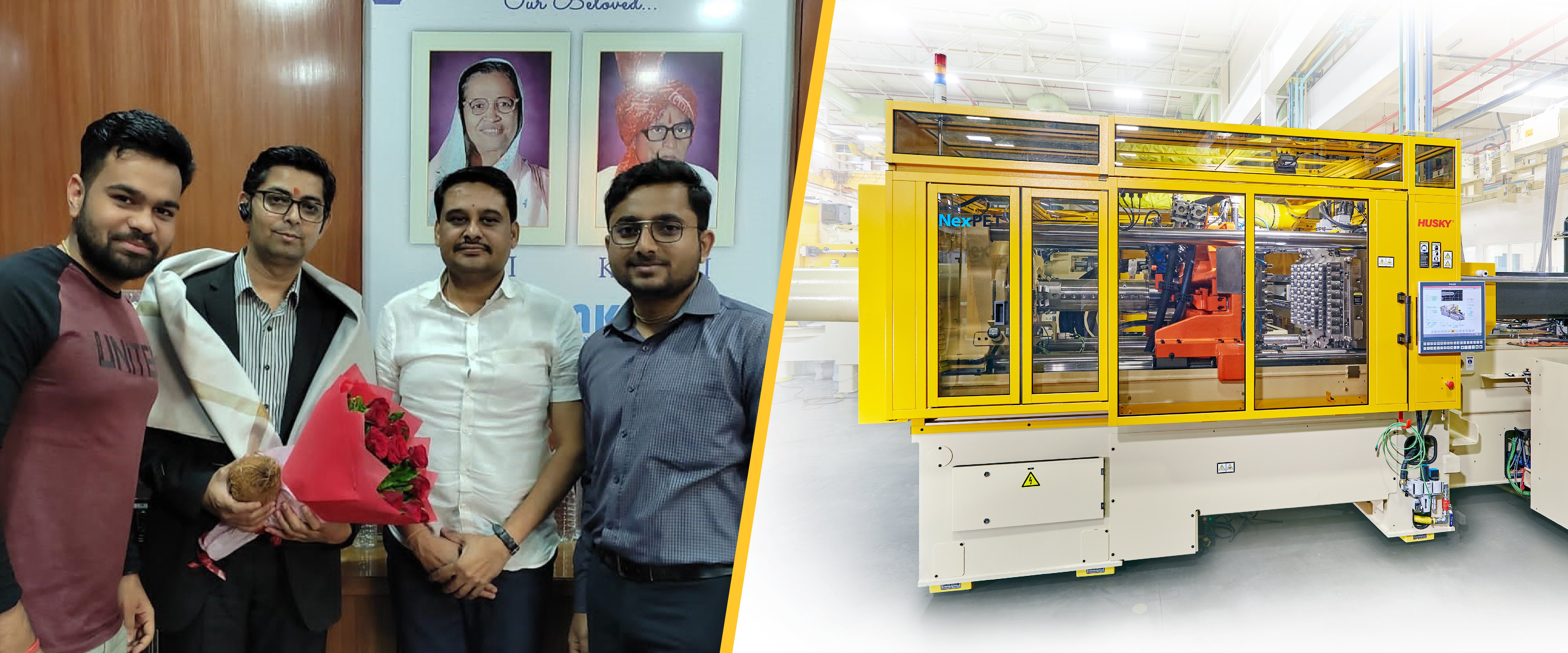 Their most recent Husky addition is a 48-cavity NexPET RS80 system, which will bring their total production capability to six systems and 240-cavities. NexPET's flexible mold will enable Bai-Kakaji to cost-effectively produce multiple SKUs and achieve faster mold changeover times. Designed with intuitive energy management features and the capability to run rPET, NexPET also enables producers to meet the consumer and market demand for increasingly sustainable packaging with a lower carbon footprint. Based on proven technology and backed by Husky's strong service and support network, NexPET has proven to be the most versatile system for India's ever-evolving beverage market.
Bai-Kakaji has certainly grown leaps and bounds since the purchase of their first Husky systems back in 2016. Working with Husky has enabled Bai Kakaji to not only improve productivity and efficiency, but they have also greatly optimized their preform and bottle designs to maximize resin savings and differentiate their product within the regional market. In fact, they have become the first in India to produce preforms and bottles with the ultra-lightweight Alaska neck finish, which is the lightest available in the country today.
Mr. Pramod Mundada, one of Bai-Kakaji's two founders, attributes the strong relationship between his company and Husky to a mutual collaboration and transparency among team members, strengthened by strong after sale service and support. "Throughout our experience we have always remained impressed with Husky's services, immediate support, and communication. They have always stood by us and guided us whenever we needed them," reiterates Mr. Mundada.
The close collaboration between Bai-Kakaji and Husky is also in large part due to Husky's strong local presence. Husky's Chennai office employs more than 200 team members providing fast and responsive manufacturing, spare parts and service support to customers in the region.
Today, Bai-Kakaji has grown to become one of the region's leading suppliers of high-quality water bottles (SUNRICH AQUA), preforms and closures for a diverse portfolio of beverages. By partnering with a complete solutions provider like Husky, Bai-Kakaji has been able to get ahead in the market and position itself as a regional packaging manufacturing leader.
COLLABORATE WITH HUSKY
Husky can help you too. If you are a producer who would like to learn more about how Husky's technology, solutions and services can enable your mid-volume output molding goals contact us to book a meeting.