How Lightweight Beverage Closure Designs Can Enable You to Meet Your Sustainability Goals
As sustainability has become an increasingly important packaging goal in the plastics industry, more and more beverage producers are looking for sustainable beverage packaging solutions. One component that should not be overlooked is the beverage closure, which can make a meaningful contribution towards that goal.
This is the first in a multi-part series on beverage closures sustainability that will enable you to achieve your sustainability goals. Part one focuses on material light weighting and neck finish migration for carbonated soft drink (CSD) applications.
Material Lightweighting
The concept of lightweighting is simple: remove as much resin from specific closure features as you can, without negatively impacting performance or user experience. Lowering the part weight not only reduces the raw material cost per closure and makes it easier to manufacture (by lowering the cycle time), it also makes the packaging more sustainable.
Lightweighting can simply involve resin reduction but can also combine resin reduction with changes to the geometry of the design. Multiple simulations are run on the new feature proposal to predict the performance outcome. This iterative approach is applied to all closure features until the performance, aesthetic, and flow criteria are satisfied.
Husky has developed an industry-leading portfolio of high-performing, ultra-lightweight closures through its innovative design process, which includes extensive use of mechanical and melt flow simulation tools (Finite Element Analysis - FEA).
Step one is to break the closure down into its specific elements (Figure 1).
Step two is to focus on material removal from a specific feature.
Figure 1 – A 29/25 still water closure broken out into its fundamental elements.

Simulation tools are used to predict how much material can be removed from each feature without negatively impacting performance/usability.
Neck Finish Migration
Another The introduction of new industry standard neck finishes can offer higher levels of performance at a lighter weight. The chart below highlights industry standard CSD neck finishes. The recently introduced 26/22 CSD family of neck finishes offers significant weight savings along with a higher level of performance depending upon the neck finish chosen.
There are a variety of neck finishes available for CSD applications. Figure 2 identifies the most commonly used CSD neck finishes globally. PCO1881 is the most widespread neck currently in service at 3.81g. The next generation portfolio of 26/22 CSD neck finishes range in weight from 2.30g – 2.70g.
Figure 2 – Popular neck finish options for the CSD segment.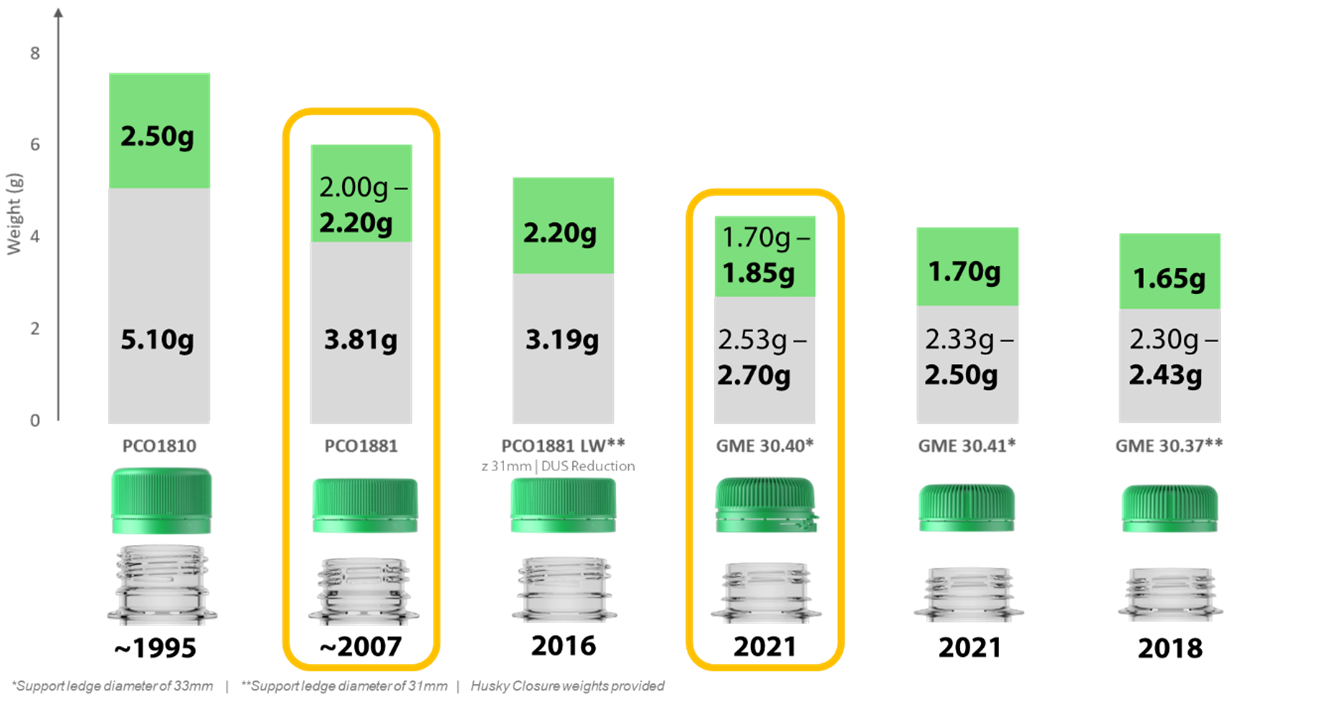 *Support ledge diameter of 33mm | **Support ledge diameter of 31mm | Husky closure weights provided.
Figure 3 identifies the critical dimensions of the PCO1881 versus the 26/22 CSD portfolio of neck finishes. There is no compromise with the drinking experience, as all three finishes feature the same inner bore diameter as the PCO1881 – 21.74mm.
The GME30.40 and GME30.41 finishes offer a higher performance rating for gas carbonation @ 5.2vol vs the 4.5vol for the PCO1881 finish. If your performance requirements are not as demanding, the GME30.37 offers a slightly lower performance rating at 4.2vol but with a lighter weight.
GME30.40 is a tethered ready finish offering a larger gap between the end of thread and the pilfer proof vs the GME30.41 as shown below. The GME30.41 is a high-performance neck that is designed for non-tethered applications.
Figure 3 – PCO1881 neck finish compared to the next generation 26/22 CSD variants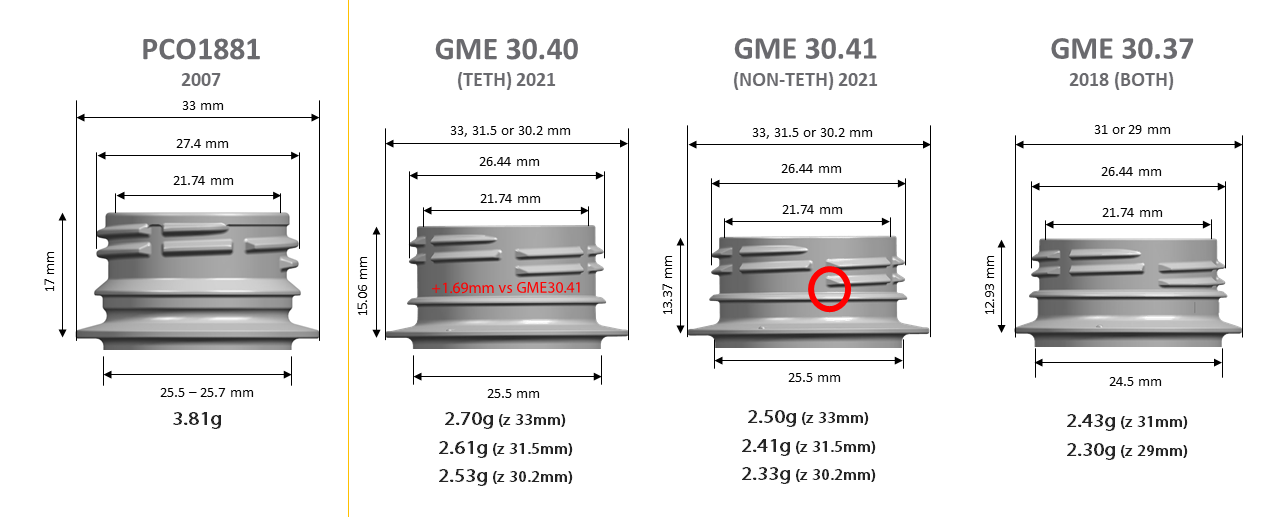 Material light weighting and choosing the best neck finish for your beverage needs can make an impact on how you can make your closures more sustainable. Part two of this series will explore how husky enables you to achieve sustainability goals in water, juice, sport drink and tea closure applications.
Talk to our subject matter experts to learn more about Husky closures portfolio